When we set out to design our advanced digital communications and detection platform, we were laser-focused on how we could help any work or gathering place bring people back together. Before getting started, we talked with our existing and potential customers to ensure we understood what mattered most. We also took a purposeful approach to design and development of all our products and solutions—ensuring each was field-tested, scalable, and enterprise secure. From the smallest mom an pop to fortune 500, our solution can be tailored to meet your needs. We are Better Together. of executives say organizations will need to consider new workplace strategies to remain competitive.
Harvard Business Review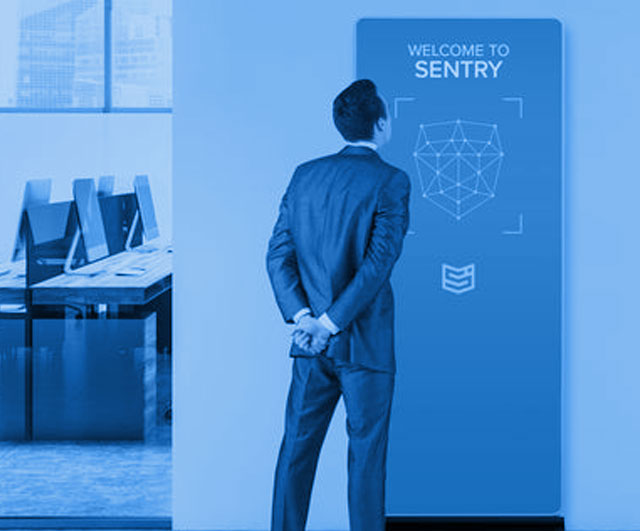 Our products and solutions were designed to meet the needs of our customers based on what their requirements are. Our customers told us they needed to ensure the workplace experience can be frictionless, safe and secure. Through those conversations we designed a set of solutions to meet those requirements.
Our products combine:
Staff less receptionist
Visitor management
Corporate messaging
Employee authentication
Let Sentry help you engage your employees, business owners, and guests on a level that allows for improved productivity and peace of mind when coming together in almost any environment.
Sentry Interactive takes a unique approach to visitor management by leveraging the visitor's smartphone as part of the credentialing and access process. Each visitor receives a unique digital key that is only good for a specified timeframe. This creates a frictionless experience for the visitor while allowing secure host notification and easy integration with the facility's policy guidelines. Sentry also eliminates the need for sign-in books and temporary badge distribution, promoting digital transformation and sustainability—and providing enhanced security via the smartphone's native security features.
Sentry Interactive is revolutionizing the access control marketplace. Our solution requires no physical badges or cards, no wires, no drilling to mount controllers on the wall—and it's two times more secure. Using a smartphone, with its built-in security, immediately gives you an extra layer of security without expending any additional effort or cost. And, if you want to bring your security profile to its highest level, we enable facial recognition as well. Allowing employees, visitors, and contractors to use their smartphones or wearables as the credentialing device creates a much more efficient user experience and significant cost savings for you. Just imagine the savings you will gain from being able to issue credentials without ever having to take pictures, print, or reprint traditional badges and cards again.
Implementing our remote receptionist module gives you the option to reduce staff or provide an added level of physical safety for your existing front office staff, as they interact with visitors in a touchless environment. Now, one person can manage multiple lobbies remotely, creating cost savings for you and added comfort for your receptionists. Your employees and visitors will encounter an immersive experience that is frictionless, engaging, and synonymous with the quality of service the world has come to expect.
Digital/Mobile Credentialing
Self Service is the new concierge and Sentry Interactive empowers you to provide a level of enrichment that you and your community could only imagine. Now your employees, visitors, and contractors can use their phones for just-in-time credentialing, 24/7 support, greater levels of security, and a variety of options never before available. It's like going from a 9-volt transistor radio to using Apple Music™.
User experience and high security were once mutually exclusive. However, now you can have both with our Enterprise package. Enabling facial recognition as part of the credentialing process, you can ensure only properly credentialed individuals have access to the specific places allowed by your policy. It's efficient and seamless for them—and offers a more sound, accurate, and sophisticated level of security for you.
In today's environment, businesses must be prepared to address and adapt to constantly changing vaccination policies. Being able to easily capture and document vaccine passport information, testing results, and other information is now a basic requirement. Our solution provides an efficient and effective way to ascertain this information from employees, visitors, and contractors—and allows you to accurately leverage it for documentation purposes. This is key for maintaining critical business continuity and successful, ongoing business operations.
Capacity Management/Facility Analytics
Building the foundation for a hybrid workplace is new for everyone—and being able to better understand your capacity guidelines and manage building utilization guidelines is more important than ever. Sentry's solution is your game-changer. You can quickly and accurately collect this information at the source, tapping into robust analytics for better decision-making and reporting.
Customized Health Surveys
Your people are your biggest asset, and ensuring they're healthy, safe, and compliant is of the utmost importance in today's environment. Sentry Interactive's solution is fully customizable and offers many different options that make it easy for you to gather information from your users about their wellness and compliance with your unique safety guidelines. And because we can integrate directly into your backend systems, these surveys can be time-stamped for better reporting and analytics.
Employee engagement is critical when navigating an ever-evolving work and play environment. With Sentry Interactive's advanced integration and architecture, critical and timely messaging for employees, visitors, contractors, and students are just a click away.
Custom Solutions for Everyone and Every Environment
Sentry has taken a customer-first approach to the marketplace. We have listened to feedback from customers and potential clients across a variety of industries to ensure we have the right solutions at the right price. Our model allows organizations to start simple and grow based on current trends and needs—and it provides the flexibility to flex up or down as your work environments continue to evolve with the times. Getting started was never easier!
Digital Receptionist
Visitor Management
Host Notification
Workplace Capacity Management
Visitor Management functions plus…
Access Control
Video Surveillance
Facial Recognition
Door, Elevator, Turnstyle Integration
Visitor Management ($500/month)
Virtual receptionist
Visitor Management
Host notification
Workplace Capacity
Temperature Screening
Mask Compliance
Health Survey
Vaccine Passport Capture
Reporting & Integration
Enterprise Access + Visitor Management ($650/month)
Access Control
Video Surveillance
Facial Recognition
Management
E-911 Capability
Watchlist Integration
Door, Elevator, Turnstile Integration Availability
Coming soon! Currently not available for pre-order. Contact us to learn more.
WiFi and Ethernet

Health Screening

Mask Verification

Vaccination Passport
OSHA/CDC Questions
Enterprise Integration
Reporting
Still Curious? Let's talk.
Take the next step by learning more about Sentry Interactive's products and solutions. To request information or arrange a face-to-face introduction, simply fill out the form below,
schedule a call
, or email at
sales@sentryinteractive.com
.